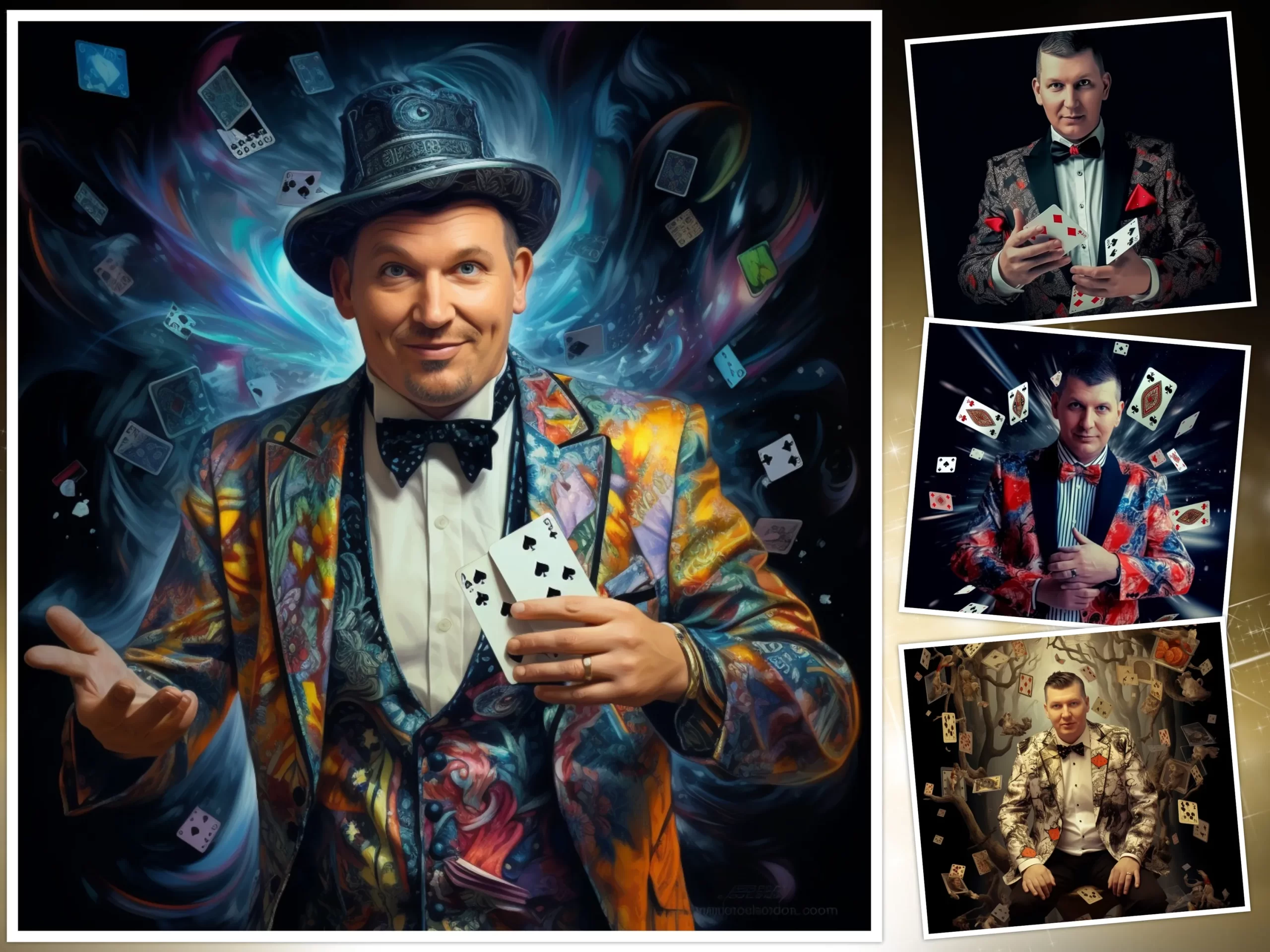 Mađioničar Vladimir Štimac je rođen 5. svibnja 1977. u Zagrebu. Talentirani profesionalni mađioničar, oženjen 2011. god., otac troje djece. Gradi karijeru u close-up mađioničarstvu s kartama i dječjem mađioničarstvu. Njegovi trikovi su precizni, elegantni i čudesni.
Gdje se Vladimir natjecao?
Vladimir je osvojio prva mjesta na natjecanjima 1991. i 2007. u kategoriji trikova s kartama, pokazujući izvanredne vještine i predanost umijeću. Inspiraciju i podršku nalazi u poznatom mađioničaru Michaelu Vincentu, dugogodišnjem prijatelju i mentoru. Na "Magic weekend in Zagreb 2014", pozvao je Michaela da održi predavanje i nastup, okupivši brojne mađioničare.
Koje vještine Vladimir posjeduje?
Osim mađioničarstva, ima iznimne vještine izvan tog područja. Njegova komunikacijska vještina, razumijevanje napredne psihologije i iznimno visok IQ od 168. Brzo rješava Rubikovu kocku bez gledanja i pamti redoslijed igračih karata.
Prepoznaje važnost neverbalne komunikacije, razumijevanje tijela, gestikulacije i izražavanja emocija bez riječi. To mu omogućuje stvaranje nevjerojatne atmosfere tijekom nastupa i interakciju s publikom na dubljem nivou.
Vjeruje da povjerenje dolazi s vremenom i iskustvom te da je biti dobar čovjek temelj svega. Njegova predanost pružanju kvalitetne usluge jamči sigurnost, očekivane efekte i nezaboravno iskustvo za publiku.
Vladimir Štimac, mađioničar s bogatim iskustvom i strašću za mađioničarstvo, neprestano oduševljava publiku iznimnim trikovima, šarmom i jedinstvenim pristupom magiji.

Magician Vladimir Štimac was born on May 5, 1977, in Zagreb. He is a talented professional magician, married in 2011, and a father of three. He has been building his career in close-up card magic and children's magic. His tricks are precise, elegant, and mesmerizing.
Where did Vladimir compete?
Vladimir won first places in competitions in 1991 and 2007 in the category of card tricks, showcasing extraordinary skills and dedication to the art. He finds inspiration and support in the renowned magician Michael Vincent, a longtime friend and mentor. At the "Magic weekend in Zagreb 2014," he invited Michael to give a lecture and performance, gathering numerous magicians.
What skills does Vladimir possess?
Beyond magic, he possesses exceptional skills outside of that domain. His communication skills, understanding of advanced psychology, and an exceptionally high IQ of 168. He solves the Rubik's cube blindfolded and memorizes the sequence of playing cards.
He recognizes the importance of nonverbal communication, understanding body language, gestures, and expressing emotions without words. This enables him to create an incredible atmosphere during performances and connect with the audience on a deeper level.
He believes that trust comes with time and experience, and being a good person is the foundation of everything. His dedication to providing quality service ensures safety, expected effects, and an unforgettable experience for the audience.
Vladimir Štimac, a magician with rich experience and a passion for magic, constantly delights the audience with exceptional tricks, charm, and a unique approach to magic.